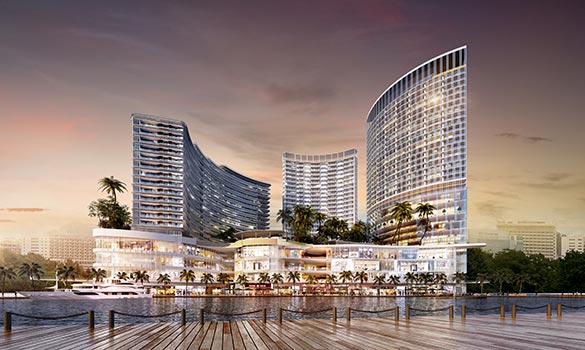 Overview
One Jesselton Waterfront Mixed Development with NSV of RM1.827 billion with integration of Tourism Oriented Development (TOD). Comprises of : 
340,000 square feet NLA of One Jesselton Premier Lifestyle Mall
432 keys 4-star Hotel
Suria Capital Berhad Corporate Office and Retail
280 units Serviced Suites
340 units Condominiums
Jesselton Point Ferry Terminal & Ticketing Hall
Carparks

1,300 bays (for mall, office, hotel & serviced suites)
690 bays (for condominium)
Location
Jesselton Waterfront City is located at the northern fringe of Kota Kinabalu city at the now largely decommissioned Kota Kinabalu Port area. It is the largest masterplanned development site in Kota Kinabalu city and an important regeneration project to extend the Central Business District (CBD) and transform the old port area into a prime waterfront lifestyle, commercial and residential district.
Today, most port activities have been relocated to Sepanggar Port whilst Kota Kinabalu Port continues to handle non-containerised cargo and international cruise vessels. Realisation of the development plans for Kota Kinabalu Port will see the location enhanced by an international cruise terminal, convention centre and mixed use high-end development.
The subject site commands a strategic position next to Jesselton Point ferry terminal and is a natural extension of the CBD. It enjoys absolute water frontage (South China Sea) to the west, the Signal Hill mountain range to the east, Kota Kinabalu CBD to the south and Likas Bay to the north.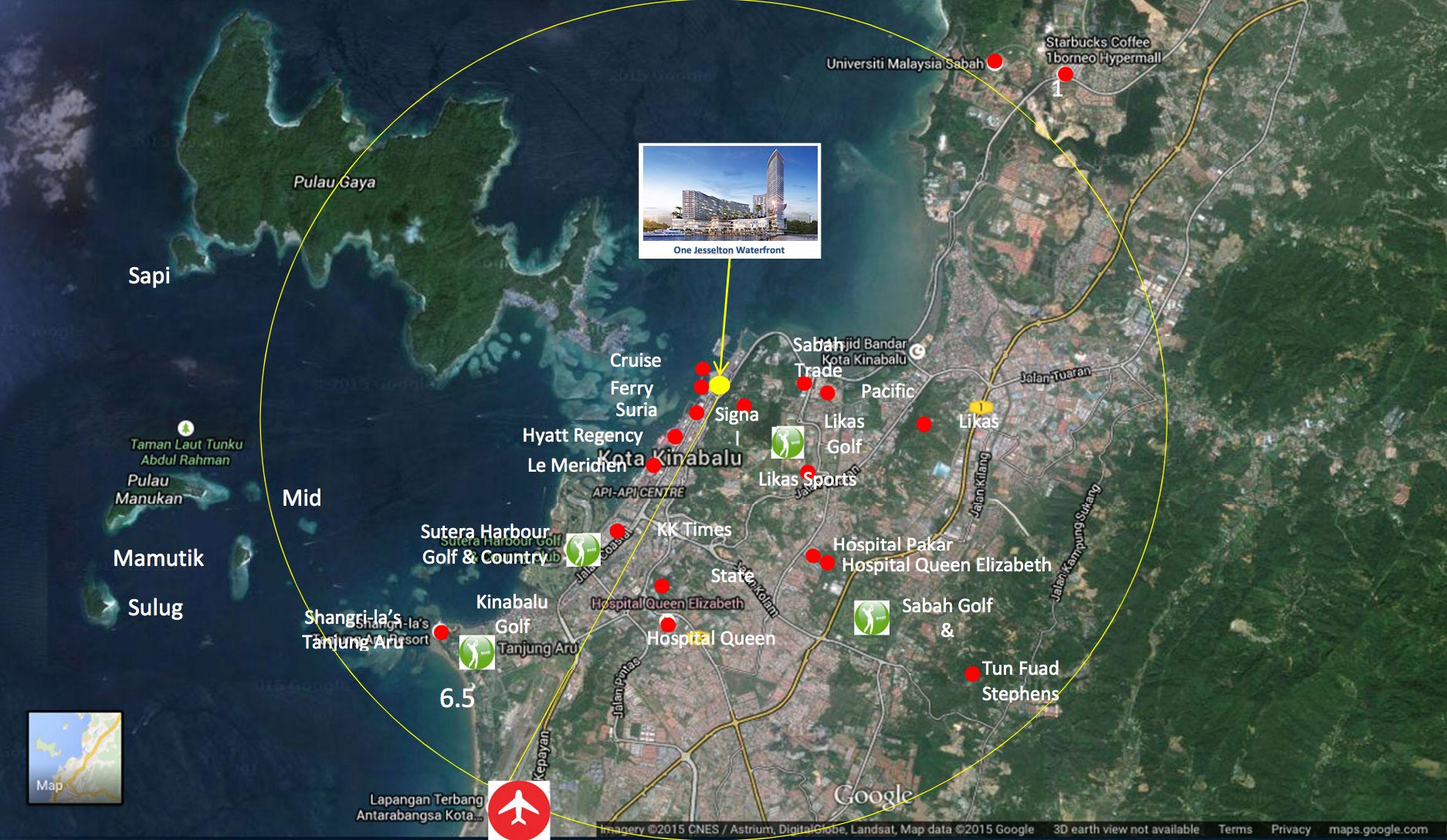 Kota Kinabalu International Airport (KKIA) is located approximately 8 kilometres south west of the site and is easily accessible from the site.
Tunku Abdul Rahman National Park is a group of 5 islands spread over 4,929 hectares and located approximately 3 kilometres from the site, accessible by sea from Jesselton Point ferry terminal. It is a popular tourist destination for day trips and currently comprises 4 hotels – Gaya Island Resort, Bunga Raya Resort, Gayana Eco Resort and Manukan Island Resort.
The Master Plan
Jesselton Waterfront City which is an extension to the existing Central Business District (CBD) of Kota Kinabalu will be transforming the old port area into a prime waterfront lifestyle, commercial and residential district. The Jesselton Waterfront City comprises of this development, One Jesselton Waterfront, JQ, KKCC, International Cruise Terminal and also Jesselton Point, the Ferry Terminal. This master planned development further complimented by the adjacent Kota Kinabalu Convention City (KKCC) and Sabah International Convention Centre (SICC). With its integrated development of commercial, residential, hotel, office and convention, Jesselton Waterfront city is the latest addition to KK's central business district, gracing it with the longest boardwalk, an exciting waterfront realm and new entertainment precinct transforming KK into Sabah's cosmopolitan destination.
The Jesselton Waterfront City is a re-development part of Kota Kinabalu Port comprising some 23.25 acres reclaimed land. In March 2015, Gabungan AQRS Berhad entered into a joint venture agreement with Suria Capital Holdings Berhad, to develop the 6.28 acres One Jesselton into a mixed used development comprising premier retail mall, hotel, serviced suites, residential condominiums and commercial office space.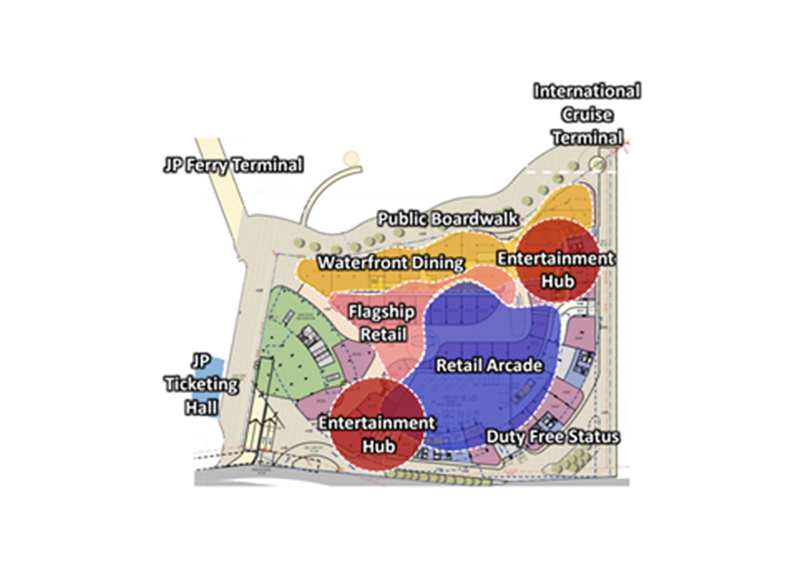 One Jesselton Waterfront Within Jesselton Waterfront City
The subject site is a mostly regular shaped, rectangular parcel of land measuring approximately 6.28 acres. It enjoys water frontage on its southern perimeter (108 metres) and western perimeter (190 metres). The north and east boundaries (170 metres and 204 metres respectively) of the site will be neighbouring future mixed use development. Portion of the site is occupied by existing Jesselton Point ticketing hall which will be relocated to the left corner of the development.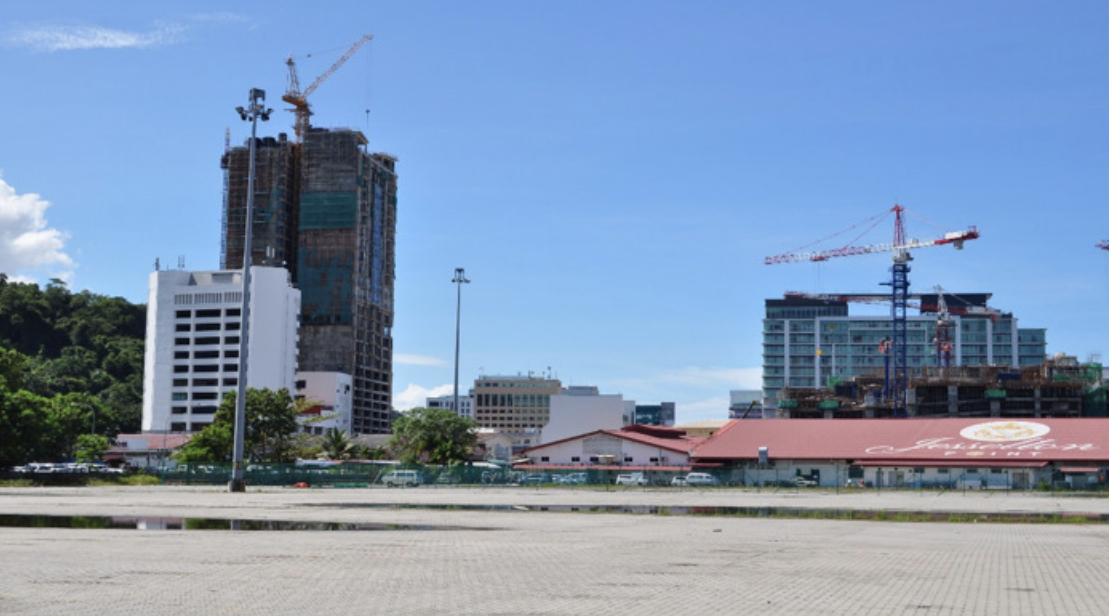 One Jesselton Waterfront Mall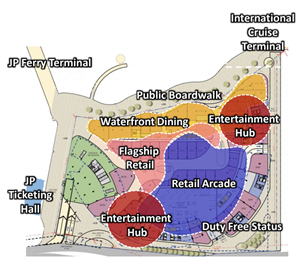 Strategic Location
One Jesselton Premier Lifestyle Mall is located between Jesselton Point Ferry Terminal and International Cruise Terminal (ICT). It is the natural gateway to welcome regional as well as international tourists. The details of the mall is as follow:
4-storey retail floors LG, G, Level 1 and Level 2 and 2 basements carpark
Coach and taxi terminal and drop off at Level LG
Connectivity to the wide boardwalk, ferry terminal and internal cruise terminal at Level LG
Connectivity to the ferry terminal ticketing office at Level LG and via sky bridge Level G
Connectivity to the BRT at Level G
Dedicated drop off at Level G