A transformation which led to the rebirth of GBG
In April 2016, the Group embarked on a massive restructuring exercise, spearheaded by the Group CEO, Dato' Azizan Jaafar. When the transformation plan was initiated, the Group identified several key areas that required much needed improvements. These were: a) mounting debt levels, b) a dwindling construction order book and c) a high operating cost base against revenue, signalling inefficiencies within the Group's operations.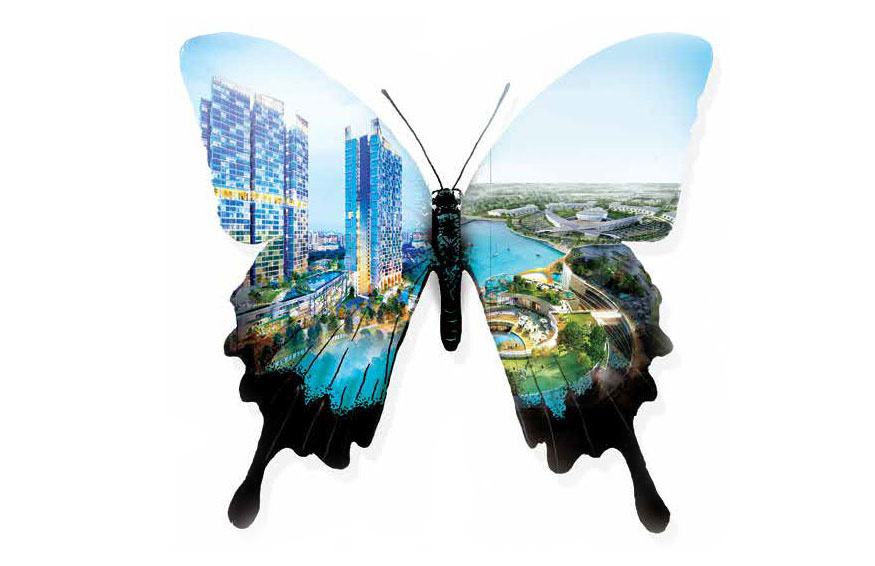 Firstly, to tackle the mounting debt levels, the Group embarked on an asset monetisation strategy. We identified several noncore assets that could be monetised, which amongst others, include 3 parcels of lands in Selangor. Disposals of non-core landbanks resulted in the Group raising net cash proceeds of about RM58.0 million, of which RM25.6 million was received in FYE 2017. As a result, our net gearing level has been reduced to 0.11x as at FYE 2017, compared to 0.69x in FYE 2016.
Nevertheless, we still plan to be in the property development business, and as such, we continued on our development plans for 2 parcels of land under joint-venture agreements with the respective landowners. The property developments that we wish to still partake in include our ongoing development in Johor Bahru, dubbed The Peak and a mixed development in Kota Kinabalu. We foresee our Kota Kinabalu development, One Jesselton Waterfront, to be our flagship development with the potential to contribute a sizeable chunk of recurring income from the mall and hotel operations in the future.
A dwindling construction order book was a concern to the Group. Henceforth, upon the entry of Dato' Azizan Jaafar as our Group CEO, we revamped our contract procurement strategy which resulted to a major turnaround in our order book, which focused on large, top quality orders which are of national interest. As such, in 2016 and 2017, we managed to boost our construction order book by RM1.5 billion and RM1.3 billion respectively. A new milestone was also achieved in 2017, having secured our largest job to date worth RM1.13 billion from Prasarana Malaysia Berhad to construct and complete package GS04 of the Light Rail Transit 3 (LRT3). To compare, prior to the appointment of Dato' Azizan as the Group CEO, our total contract wins over 3 years was RM350 million vis-à-vis RM1.5 billion and RM1.3 billion that were clinched in FYE 2016 and FYE 2017 respectively.
Our high operating cost base was also a key reason on the need for The Group to be restructured. Our overhead costs as a percentage of revenue, a measure of operating efficiency, went to a high of 22.8% in FYE 2015. However, this ratio has seen a gradual drop to 16% and 14% in FYE 2016 and FYE 2017 respectively. This was executed by reducing the number of inefficient employees while boosting productivity and improving our internal management processes and implementing stringent cost controls.
We were constantly supported by our stakeholders during our transformation period in spite of the uncertain success when it was first initiated. The Group remains grateful for the patience, hard work and dedication demonstrated by our employees and business partners, including our subcontractors.
On the risk management side, we set in place a stringent set of risk mitigating policies. This is to ensure amongst others, claims submissions were settled on time. Aside that, to further improve our corporate governance, we moved to appoint more independent directors to the board, to ensure interests of both shareholders and stakeholders are protected.